Current Sensing SPP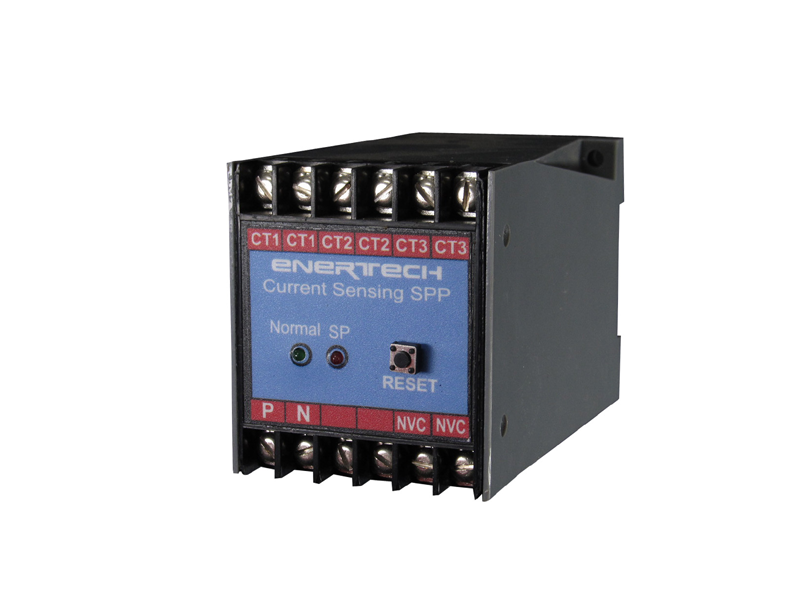 Specifications
LED Indicator for Power & Trip
Auxiliary Supply : 230 VAC +/- 10%
Input from 3 CTs of secondary rating 5A from each Phase
Current Sensing operation
Reset switch is provided to reset after tripping
Output relay contact rating : 5A at 230V AC
Field proven design
Enclosure : Din Rail Mounting
Size : 60 X 70 X 110 mm
Description
This is a Current Sensing SPP, senses the current from the two phases and if current in any one of the three phases is absent, it operates the relay.
This is perfectly suitable for the protection of the three phase motor.
It Automatically resets when the fault condition is gone.
Technical Specifications
| | |
| --- | --- |
| Enclosure | Din rail mounting ABS Plastic |
| Size | Facia 70 (H) X 60 (W) mm, Depth 110 mm |
| Auxlliary Supply | 415 VAC or 230 VAC 50 Hz |
| Input | From two CTS / 5 Amps |
| Output | Potential Free Contact (5 Amps at 230 VAC) |
| LED Indications | One For power on and second for Tripped condition |